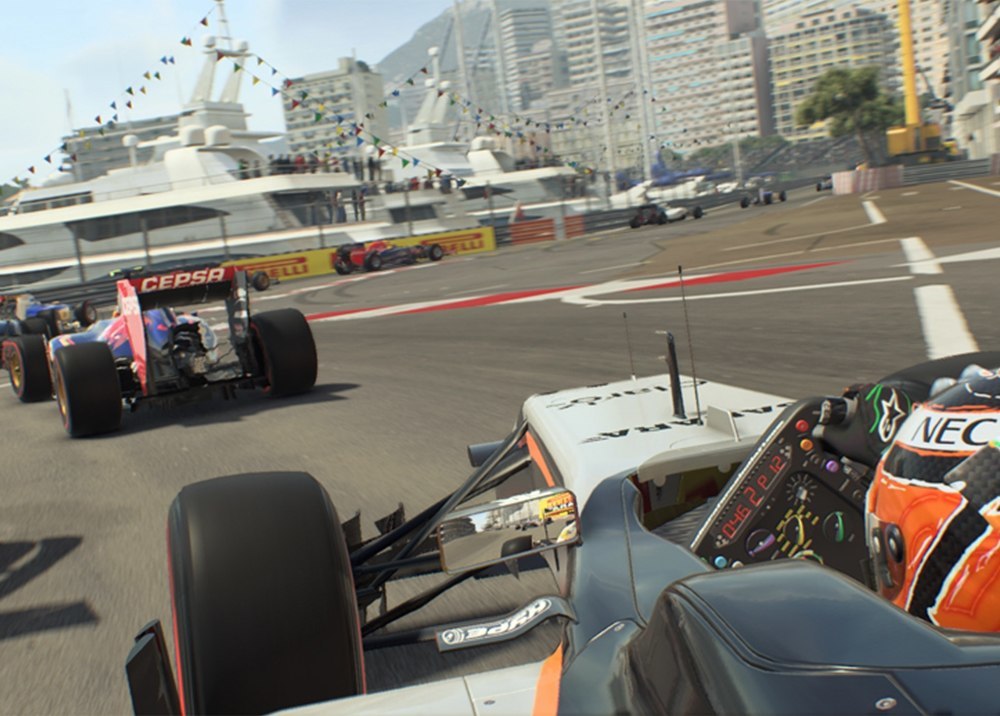 F1 2015 Review
Is this year's installment on pole position or stuck in the gravel?
F1 2015 arrived slightly earlier this year with usual updates to driver roster and car liveries, but how does the core content game fair? Does it zip past the chequered flag in first? Or does it limp to the pits with a wheel hanging off?
Straight off the bat, it's clear to see that this years entry to the series is a considerably stripped down version in terms of game modes. Career mode with your own driver or any sort of co-op are nowhere to be seen. Instead, Championship season is where you'll probably spend most of your time unless you back yourself and vouch for the new Pro Season mode. Pro Season forces players into the cockpit camera with all assists off, manual shifting and no HUD.
Fortunately, most of the confusion and gripes about game modes and menu decisions is left behind when you eventually get yourself in the cockpit and onto the track.
F1 2015 is an absolute joy to play.
From the moment it's lights-out on the grid, you feel massive improvements of the physics engine and car handling model. Wheels spin up and subtly vibrate your controller, the back end wobbles out of corners while you keep your foot down and correct the oversteer. The cars truly feels incredibly responsive to every movement you make.
F1 2015 looks stunning in wet conditions
Other than the whirring of the new hybrid engines, you'll hear a lot of your engineer, who feeds you information about your car, tyres, fuel consumption etc. He also informs you on your team mates whereabouts on-track, as well the time difference between your competitors. This is easily the best and most useful engineer in recent F1 titles, albeit a bit too quiet on default settings.
Presentation-wise, F1 2015 is a step up from it's predecessors. All of the drivers have full character models with and without their helmets, which allows for extra cutscenes like drivers congratulating each other and their teams, as well as the much loved podiums. It's a nice little touch, but thank god they didn't go as far as to include Eddie Jordan's (and others) awkward podium interviews.
F1 2015's 'broadcast presentation' boosts immersion as it mimics TV coverage of a race weekend. Complete with shots of drivers chatting with their engineers in the garages, swarms of teams on a busy grid and finally the podium ceremonies.
The driver's models are obviously not the best looking characters you are going to see this generation, but they do a good enough job to portray their real life counterparts to immerse you in the setting. Take Sergio Perez for example, who looks about as happy as he is with his Force India this season.
Replays have also received an overhaul, mimicking the broadcast shots from real life tracks and building on the immersion that Codemasters have been pushing this year.
F1 2015 looks stunning in wet conditions
Turning to multiplayer, it unfortunately suffers from the same lack of game modes and has some frustrating technical issues that impede gameplay. A lot of time spent matchmaking will place you in a full field of AI opponents… Might as well do a quick race right? Another recurring problem was players being disconnected and replaced with AI without notice. An example being that their cars display their names, but when talking to them they think they are still racing me when I am nowhere near them on the track.
When it works, F1 2015 is immensely fun and satisfying to the point of addiction. The problem is getting it to that stage, especially online. You could almost compare the latest addition of the franchise to this years McLaren Honda. The core package is there, but a few missing key elements allow it to slip behind the competition.
Tags: Review
Nigel Norman
Founder of Health Regen and part time Spartan/Witcher/Wasteland Wanderer. You can follow more ramblings on
Twitter
.